Domains - Starting from only £9.12

"The Only Limitation is your Imagination"

Design great looking websites without writing any code quickly and easily with SiteDesigner Pro. Choose from hundreds of purpose made professionally designed templates and then make it your own. Alternatively you can start from a blank canvas, the choice is yours. Edit every, font, colour, image and text to truly create a unique website that is completely your own.
Site Designer is a fully hosted solution which means you don't need to buy any additional products see your website published on the internet.


- No software to install, you can start designing your website instantly
- Log in from any computer and make any changes you want, wherever you are
- Your data is stored in our secure purpose built data centre with full back-ups
- Whenever we upgrade our software you are automatically moved over to the new version
View Online Demo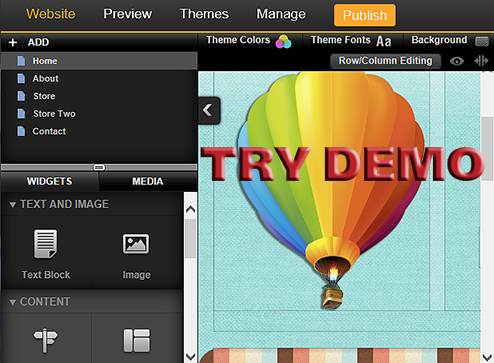 Features and Specifications
SiteDesigner comes with all the features and support you'll need to build a great looking website you can be proud of. Choose the package right for your needs.
| | | |
| --- | --- | --- |
| | SiteDesigner | SiteDesigner Pro |
| Number of pages | 10 | Unlimited |
| Templates | Basic | Basic & Pro |
| Web space | 2GB | 5GB |
| Data limit | Unlimited | Unlimited |
| Emails | 5 | Unlimited |
| Images | | |
| Photo gallery | | |
| Twitter | | |
| Facebook | | |
| RSS feeds | | |
| Add video | | |
| Embed 3rd party content | | |
| Forms | | |
| Google maps | | |
| SEO tools | | |
| Google Analytics | | |
| Shopping Cart | | |
| Google checkout | | |
| PayPal | | |
| Edit HTML/ CSS | | |
SiteDesigner £100.80 per year

Add to Basket
SiteDesigner Pro £144.00 per year

Add to Basket "Far cheaper than having a Web Designer"
SiteDesigner FAQ's

Can I set up an online shop?



Ecommerce is available the Pro package. You can use our Google Checkout Widgets or you can embed another ecommerce platform into your site (such as Paypal).



Can I add adverts to my website?

Yes you can.



I want to show my images - Do you have a gallery?

Yes, we have a Carousel Widget, which lets you create a sequence of images or other elements.



I already have a site. Can I import it into SiteDesigner?

No you cannot import a site into SiteDesigner, but you can easily recreate it.



Can I upload my own videos to my SiteDesigner site?

You can upload videos up to 20mb. If your video is bigger than this, we recommend you use a video hosting service like YouTube or Vimeo and embed it.



Can I have more than one website?

You can create and publish one website per package. If you want multiple websites you will have to buy additional SiteDesigner packages.



Do SiteDesigner sites have good Search Engine Optimisation (SEO) performance?

All websites are built in HTML and CSS, rather than Flash, which means they are naturally search engine friendly. For users who want to get more advanced with SEO, you can edit page titles, meta descriptions, add contextual links and much more.

Purchase safely online with us